Help your business to grow
Generate An Effective Social Strategy
An effective social strategy can help you grow your business, grow your audience, and engage with your audience.
The Fastest Growing Form Of Online Marketing
Let us do the work. We will take over the following areas of tactical focus to help you reach new people and build relationships with leads:
Social media management
Social monitoring/listening
Trends monitoring
Social outreach
Original and compelling content development
Social advertising
HOW DOES SOCIAL MEDIA GENERATE RESULTS AND LEADS?
When done correctly, a social media campaign on sites like Twitter, Facebook, and Instagram can generate leads. By posting, you'll not only get your content out there, but you'll be able to track who is engaging with that content.
This process allows you to narrow down your potential customers.
You can generate new content to engage with these potential customers, offering them a service or product they are looking for, resulting in conversions. With most of the population spending so much time on the internet, social media campaigns are a great and cost-effective way to reach your target audience on the internet.
SPREADING THE
CORPORATE MESSAGE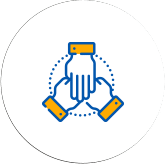 CUSTOMERS TELL
THEIR FRIENDS
IDENTIFY THE TARGET
AUDIENCE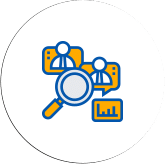 INCREASING
CUSTOMERS LOYALITY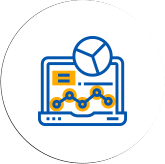 MAKING CUSTOMERS
ACTIVE PARTICIPANT
Social Media backed by Analytics, SEO, and Design
Find Out How Social Media Works For Your Business
ADVERTISING ON FACEBOOK,
INSTAGRAM, YOUTUBE, & TWITTER
Social media advertising is a fantastic marketing solution that almost any business can use to create awareness and client engagement. Call us to find out how we can help launch your campaign.
Marketing across social media is also one of the fastest-growing forms of online marketing today. Velocity Media Lab can represent clients by both online, targeted ads, and business page development.
Running a promotion on across social media is an effective way to get in front of the people who matter most for your business, people who are interested in what you offer.
Facebook advertising is the most targeted form of advertising. A major benefit of Facebook advertising is its ability to reach your exact audience. You can advertise to people by age, interests, behavior, and location. Knowing your customer is the key to successful targeting.
FACEBOOK & INSTAGRAM ADS WORK
BECAUSE THEY'RE RELEVANT
Social Media Ads have shifted from simply connecting to users, to engaging with your target audience in a meaningful way. This can encourage awareness and conversions.
By creating quality posts, and promoting those posts with advertisements, we engage your target audience. It is also possible to reach outside of the group and expand your audience. You will be tapping into diverse and well-connected networks that will propel your brand even farther.
Between Facebook and Instagram ad platforms, you can reach almost anyone, on any day of the week. The results of Social Media Ads can be significantly higher than other forms of display advertising. Find out how you can put Facebook and/or Instagram ads to work for your business.
Velocity Media Lab
Digital Marketing Solutions
See How Our Digital Marketing Agency
Can Help You Succeed